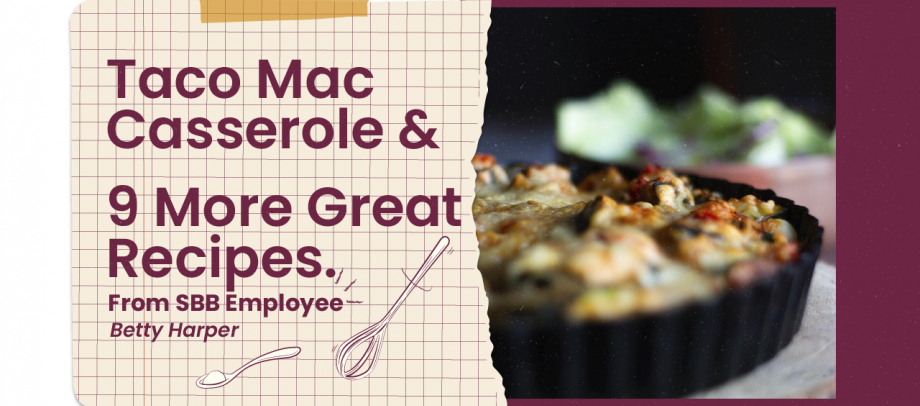 To help celebrate the holiday season, we asked long-time State Bank of Bement employee Betty Harper to share some of her favorite recipes. She was more than happy to oblige and picked out ten of her most popular recipes for entertaining.  The recipes listed below are copied exactly from Betty's recipe cards.
If you try any of these, let us know! Make sure to take a photo and tag us on Facebook.
Cracker Barrel Hashbrown Casserole
16oz sour cream
2T Minced Onion
2 cups grated cheddar cheese plus more to sprinkle on top
1 pkg (2lbs) shredded hashbrown potatoes thawed
½ cup butter melted
10-1/4oz cream of chicken soup
1tsp salt
¼ tsp pepper
Mix all of the above (add the hashbrown potatoes last)
Put the mixture in a greased 9x12 pan.
Bake for 45 minutes at 350 degrees.
Sprinkle with cheese in the last few minutes.
Corn Casserole
1 stick of butter, melted
1 can creamed corn
8oz sour cream
1 can whole kernel corn (drained) plus 6 tsp. juice.
1 box Jiffy cornbread mix
 
Stir ingredients together. Put in a 9x13 or smaller baking dish.
Bake for 45-60 minutes at 350 degrees.
Baked Beans
2 – 15oz Van Camp's Pork and Beans
½ cup packed brown sugar
3T minced onion
½ cup catsup
1T prepared mustard
1t Worcestershire sauce
1t red wine vinegar
salt and pepper to taste
2 slices thick-cut bacon

Preheat oven to 350
In a 9x9 pan combine the above. Top with bacon slices
Cover with tin foil
Bake at 350 degrees for one hour.
Meat Loaf
1½ lbs ground  beef
1 egg, beaten
1 cup tomato juice
¾ cup Quaker Oats (1-minute oats)
1T minced onion
1tsp salt
¼ tsp pepper
Preheat oven to 350.
Combine all ingredients. Mix well.
Press firmly into an ungreased 8x4x2in loaf pan.
Bake at 350 degrees for one hour.
Crockpot Meatballs with Grape Jelly
                32oz frozen meatballs
                10oz grape jelly
                12oz bottle of chili sauce
 
Add the above ingredients to a crockpot.
Cook on low for 4 to 6 hours or on high for 2 to 3 hours.
Ham Salad
1 package Oscar Meyer thick-cut bologna
3 boiled eggs
¼ cup pickle relish
1 cup mayo
 
Grind up bologna and eggs.
Mix in relish and mayo.
White Gravy
4 tbs oil
4 tbs flour
2 cups milk
salt and pepper to taste

Stir oil and flour in a skillet until bubbling.
Add milk and stir until gravy comes to a boil.
Taco Mac Casserole
1lb ground beef
1 packet taco seasoning
¾ cup water
12oz package of Velveeta Shells & Cheese
1/3 cup sour cream
1 cup shredded cheddar cheese
1 cup salsa

1. Brown ground beef in skillet. Drain grease.
2. Add taco seasoning and water. Simmer until most liquid is reduced.
3. Prepare shells and cheese according to box directions. Stir in sour cream to pasta.
4. Spread half of the pasta onto the bottom of a 2-quart baking dish. Top with meat and     
sprinkle with ½ cup shredded cheese. Add the second half of the pasta.
5. Cover with foil and bake at 400 degrees for 15 minutes.
6. Remove foil and spread salsa over top. Sprinkle remaining shredded cheese over salsa.
7. Bake additional 5 minutes until cheese is melted.
Twinkie Cake
1 box Twinkies
12oz Cool Whip
2 packages puddings – small instant French vanilla
3 cups milk
2 crushed Butterfinger or Heath bars

Split the twinkies in half and place them, center up, in a 9x13 pan
Mix pudding with milk and pour on top.
Put cool whip on top. Sprinkle with candy bar pieces.
 
Baked Chicken or Pork Chops
 
1 cup flour
1t salt
1t paprika
1t pepper
2t baking powder
2t seasoned salt.

Mix seasoning ingredients.
Wash cut-up chicken or pork.
Roll meat in milk and then the above mixture.

Place in a foil-lined pan and cover with foil.
Bake at 350 degrees – 1 hour for chicken or 45 minutes for pork chops.