Mobile Remote Deposit
It's as easy as taking a picture of your check and sending it to us. Click here for a step-by-step enrollment video.
Once enrolled and before depositing a check, you'll want to
Make sure the check is properly endorsed, signing it according to who it is payable to.
Underneath your endorsement write "For Mobile Deposit". Do not only check the mobile deposit box. 
Take a picture of the front and back and type in the total amount to deposit.
Choose which account to deposit to and click "deposit".
Mobile deposit is secure and confidential.  
Once the check is sent to us, it goes directly to the bank remotely.  For additional security, the check picture is never stored on your device.

You'll want to store your check for 14 days in a secure location.  After 14 days, mark VOID across the check and dispose of it properly.

You can go to "review deposits" on your mobile app for history of checks sent to us.

Mobile deposits will be updated within 24 hours Monday through Friday except for Federal holidays.  Mobile deposits made after 3:00 p.m. on Friday will be updated on the next business day.
This service is complimentary, so take advantage of the convenience of mobile remote deposit today.
State Bank of Bement App
State Bank of Bement iPad App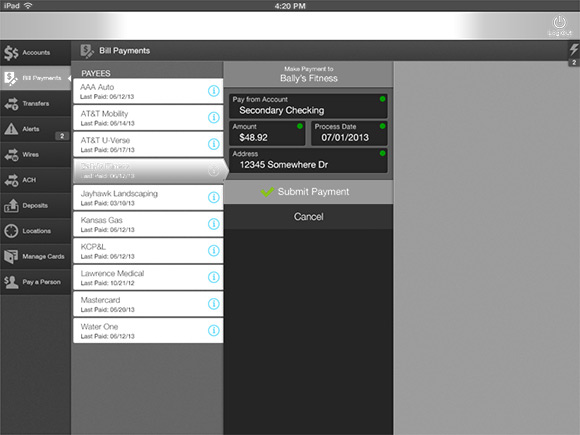 ---
SBB Mobile (Mobile Banking) & eTouch24
SBB Mobile - We are excited about this new product that is available in 3 forms. (1) SBB Mobile Text Banking where customers can receive balances and history. SBB Mobile Text does not require Internet connectivity. While there are no State Bank of Bement fees to use this product, text fees may apply and customers should check with their wireless provider to find out more details. (2) SBB Mobile Web where customers can log into their eTouch24 Internet Banking account via web and transfer funds, receive balance information, pay bills, and view transactions. The SBB Mobile Web is the perfect banking tool for Blackberry users. Customers can use SBB Mobile Web regardless of your mobile carrier as long as you have the data plan and can access the Internet. While there are no State Bank of Bement fees to use this product, wireless carrier fees may apply and customers should check with their wireless provider to find out more details. (3) State Bank of Bement App where customers who own an Android (Droid) or iPhone can purchase the application from the app store. While there are no State Bank of Bement fees and no fee to purchase the app, wireless carrier fees may apply and customers should check with their wireless provider to find out more details. Before utilizing SBB Mobile, customers should ALWAYS PASSWORD PROTECT your phone. While most mobile devices (and computers) can access public WiFi spots, State Bank of Bement does not recommend customers use public WiFi spots to access their Internet Banking account information. Click here to learn how to protect your bank information when using SBB Mobile.
eTouch24 - View account activity online for your checking/savings/certificate of deposit and loan accounts
Transfer funds between accounts
Look at check images that have cleared account
Look for a specific check or a date range of items
Export history to personal financial software
View previous statements
Reconcile accounts
Initiate a stop payment
Add alerts to remind you when your balance falls below or goes above a certain amount.
PAY BILLS! Forget spending hours a month paying your bills. Now you can do it all in 15 minutes or less a month. It really is easy, try it out for yourself!
Enroll in eStatements, our Electronic Statements service. Receive statements electronically by safely and securely logging into your eTouch24 account. Use of this service is free and statements can be viewed or saved electronically. In order to begin to receive statements electronically, you must have a user name and password for eTouch24. Visit or call us to obtain a user name and password. Once inside your eTouch24 account, simply go to the eStatements tab at the top and complete the short 5-step enrollment process. Once enrolled, an email will be sent to you when your statement is ready to be viewed. In order to retrieve your statement or view your statement, log into your eTouch24 account and choose the account statement you would like to view. You have the option to "view" or "save". If you send statements to an accountant, this service can also be used to safely and securely send your accountant your statement as soon as it is ready. The bank will send it for you! For more questions regarding this service please contact us at 217-678-2311.
Reset your Own Password - Users must first enroll in this service before it is enabled.  To do so, log in to your eTouch24 Internet Banking account.  Go to the "options" tab.  Find the blank box titled "Password Reset Question" and "Password Reset Answer".  Fill in the blanks and then hit "Submit" at the very bottom.  Once enrolled, a green "Information Message" box will inform you that "Your personal Question/Answer has been changed."  You are now able to reset your own password at any time, day or night!  Now that I'm enrolled, how do I use the reset my own password feature?  Once enrolled, when users are locked out of their account or can't remember their password, after you type your user name and submit you will then see a blue hyperlink titled "reset password".  Click on this hyperlink and a box will appear asking you to put your own email subject line in.  (This is for your security in knowing that the reset password link that is legitimate and okay to click on.)  You will also be asked your "password reset question" and then once you correctly answer your "password reset answer", a link to reset your password will be emailed to you within seconds.  It's fast, easy and convenient to use!  It's giving me an error when I click on the hyperlink.  If you receive an error, check that your user name and picture are correct.  If they are correct, then you more than likely have not fully enabled the "reset your own password" feature on the "options" tab. 
inTouch24
You are inTouch24 with your accounts 24 hours a day, 7 days a week with our telephone banking system, inTouch24. With inTouch24 you can:
Easy access to your account information with our toll free phone number, 1-888-678-2331, or by calling our local inTouch24 number at 217-678-2331.
Access your checking, savings or certificate of deposit balances
Verify the amount of a specific check that has cleared
Verify your deposits
Transfer funds from one account to another
Determine if a direct deposit has been added to your account
Retrieve account activity
Stop payment on a check
Hear current rates for certificate of deposit and individual retirement accounts
Access information on your loan
Transfer funds to make a loan payment.
Obtain our banking hours
---
Bill Pay
State Bank of Bement's eTouch24 Internet Bill pay service is free and easy to use! Sign up for Internet Banking with our NetTeller services, which is also free, and begin paying bills online for faster crediting to accounts and to save on postage. eTouch24 Bill Pays are made at 12 noon and 2 a.m. on business days. Bill pay is also a "green" way to bank. It saves on paper and saves on gas for the delivery of the mail. See Green Banking for more ways you can help the environment!